If you are searching for a beautiful and classy dress, check out this Pisarro Nights Beaded Lace Sheath Dress in the stunning color of slate. According to reviews, this gown is rated 5 stars, and overall, many people really like the look and feel of it. This is perfect for events like black tie, weddings, or evening cocktail parties. It is described as a pretty dress that fits well, has good length, and is very comfortable.
So far this has all the attributes of a real winner. It is very versatile regarding the places that you can wear it to. If you are like the average everyday woman when you pay a certain amount of money for a dress, you want to, at the very least, be able to wear it to more than one event and that is what these dresses are all about.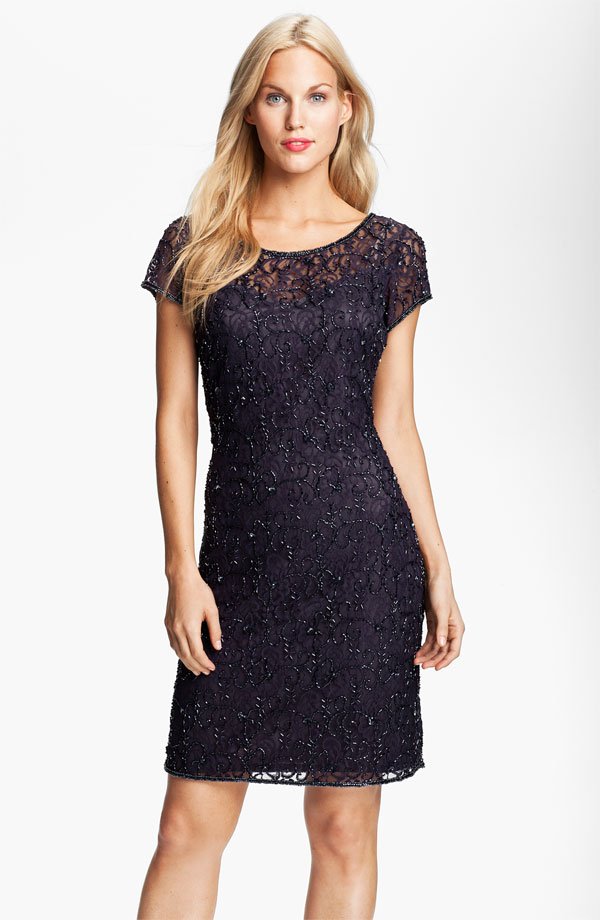 In terms of design, there are scrolls of beads and sequins that glisten against a deep hue dress that is cloaked in beautiful lace and left sheer located at the scooped neck and cap sleeves. The beads are mostly black baguettes and also scattered here and there are dark gray sequins rosettes.
The sizes available are 2, 4, 6, 8, 10, 12, 14, and 16. As you can see based on these sizes, it covers a lot of different body types. Sometimes it can be a bit difficult to find a formal dress that is not black. However, this one sure fits the bill.
See more details below:
The approximate length from the shoulder to the hem in regular is 36″ and 34 in petite size
Please know that the measurements are taken from sizes 8r and 8p and as a result may vary slightly
There is a hidden side zip closure
The dress is fully lined
The material used is Rayon
Spot cleaning is highly recommended if you want to keep your dress in the best shape.
Focus: special occasion
Overall this dress is an absolute stunner and if you are looking for an eye-catcher, this Pisarro Nights beaded lace sheath dress is calling your name. The price for this gown is around $138 and according to many that have bought it claims that it is well worth it.