The Pisarro Nights Beaded V-Neck Cocktail Dress is more than just an ensemble—it's a statement. A perfect blend of style, comfort, and affordability, this dress is everything you could wish for when it comes to a special occasion piece.
Designed for those red-letter events where you aim to make an impression, the dress brings together artful design and craftsmanship.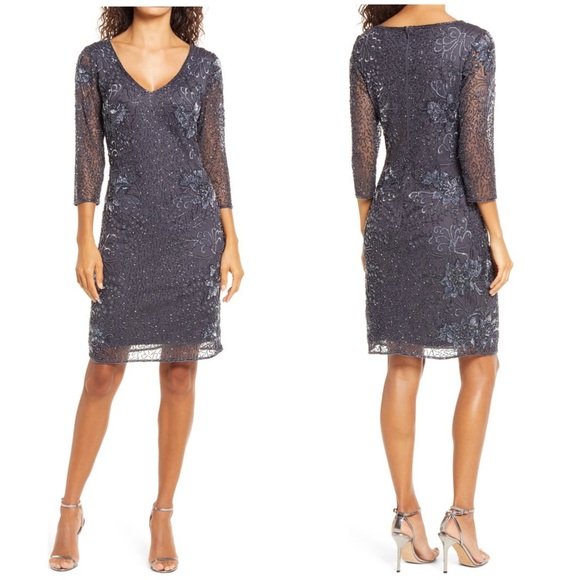 Design & Aesthetics
First, let's talk about the color—slate. It's a unique shade that adds depth and sophistication to the dress. The choice of slate is versatile, straddling the line between neutral and bold, making it adaptable to a variety of settings, whether it's a wedding reception or a corporate gala.
The real showstopper, however, is the intricately swirled floral beading that lavishly adorns the dress. This artful embellishment offers a light-catching shimmer that guarantees you'll stand out in a crowd. The beadwork doesn't just serve as decoration—it's an artwork that adds layers of opulence and charm to your entire look.
Fit & Comfort
The dress is a curve-skimming mesh sheath, essentially crafted to flatter your figure without clinging too tightly. With a 35 1/2″ length (for size 8), the dress hits at just the right point to showcase your legs while maintaining a refined elegance.
One of the key aspects of comfort is the thoughtful design of the V-neck and the three-quarter sleeves. The V-neck adds a touch of allure without being overly revealing, perfectly balancing sensuality and modesty. The three-quarter sleeves provide coverage, yet enough room for movement—particularly useful for an evening that might involve a little dancing or socializing.
Material & Care
Made from 100% rayon, the dress feels soft against the skin and offers a subtle sheen that complements the beadwork. It's also lined for added comfort, except for the sleeves, allowing for a lightweight feel that doesn't compromise on opulence.
When it comes to care, the dress is spot clean only. While this might seem like a downside to some, it's fairly common for special occasion dresses, especially those with delicate beading and embellishments.
Versatility
Though it's decidedly an ensemble intended for special occasions, its elegance can be modified with the right accessories. A pair of statement earrings and high heels can amplify its formality, while a simple clutch and minimalist sandals can dial it down for a less formal affair. The Pisarro Nights Beaded V-Neck Cocktail Dress adapts to your style rather than dictating it.
Brand Reputation
Pisarro Nights has a reputation for delivering exquisitely beaded and embellished special-occasion dresses, and this dress is no exception. The brand offers a generous range of sizes and is known for its figure-flattering fits and show-stopping designs. What's remarkable is how all of this comes at an affordable price point, proving that you don't need to break the bank to look and feel stunning.
Final Thoughts
In a world where fast fashion often sacrifices quality for cost, the Pisarro Nights Beaded V-Neck Cocktail Dress stands out as a symbol of attainable luxury. It's not just a dress, but an experience—a chance to feel your most confident and stunning best. So whether you're going to a cocktail party, a formal dinner, or any event where you aim to turn heads, this dress will not just meet but exceed your expectations.